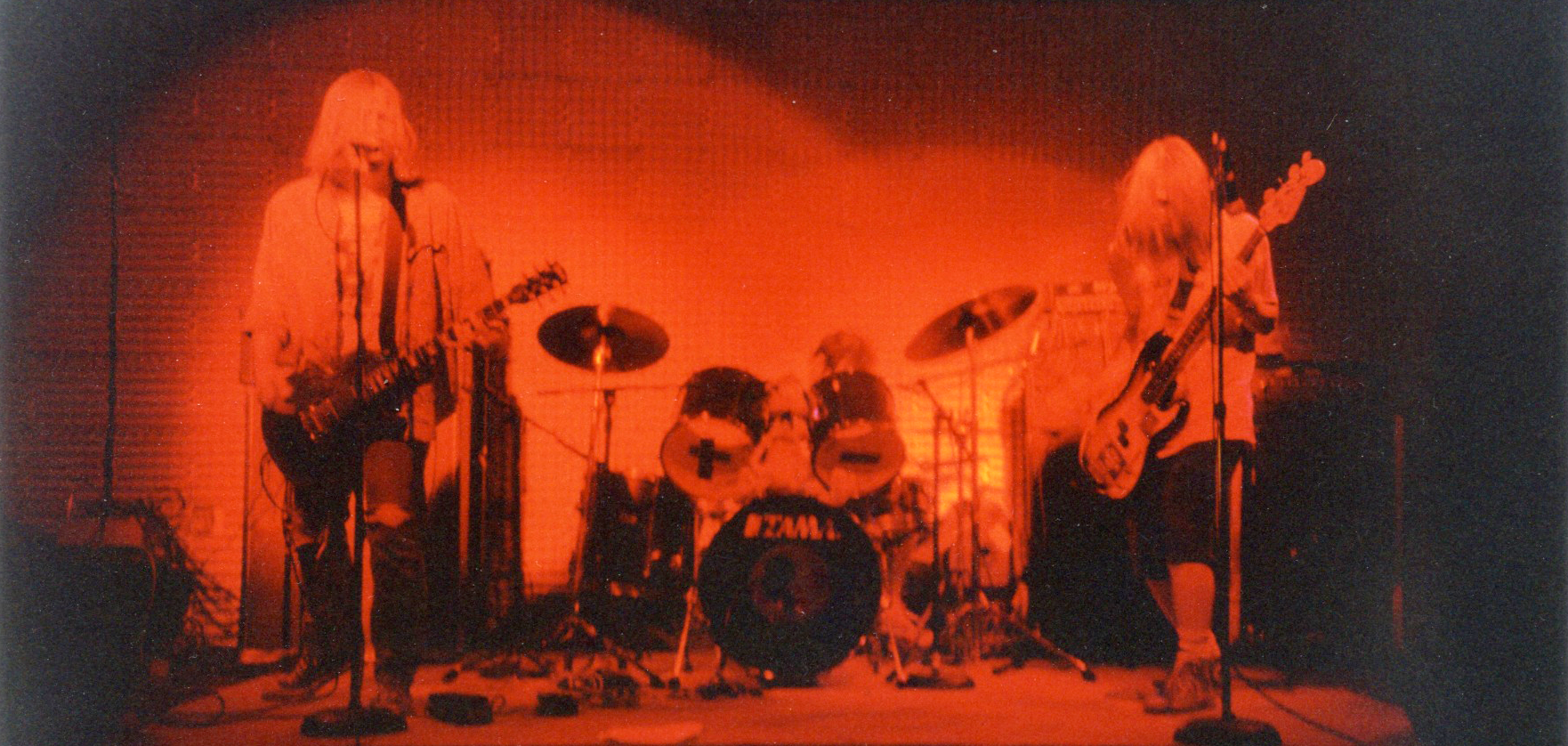 Formed in 1989, Tall Toad came out of a belief that while having lofty goals their playing ability left a little to be desired. Hence a decision to play loud, and at times fast, was made to try and cover up that glaring fact. This came after hearing Mudhoney's "Superfuzz Bigmuff" album one day in 1989. Scott and Mike had gone up to Positively Fourth Street (record store in Olympia, that sadly doesn't exist anymore), where they hung out a lot, and looking through the vinyl Mike came across the album. At that point Scott reminded him that the band had Matt from the Melvins and a couple of guys from Green River in it. After the purchase, Scott dropped Mike off at his house and went home. Mike then proceeded to listen to the album twice before he called Scott up and told him to come back over. They then listened to the album another three times, with Scott remarking "Hey, I solo like that". Not long after, Scott got a call from Tony saying he was back in town and had started to play drums. Scott told him they were starting a band and would he like to play drums. Tony said yes, he would. It was then that a legend was born.
Practicing at a friend's house late nights after work, the band began honing their sound on much alcohol and energy. They spent months at this, having a good time, until one day they could actually play, getting their first gig at the Washington Hall in Seattle opening for Gas Huffer, Seaweed, Bone Cellar and Giant Henry. They were warmly received, especially by the bands. Their next gig was opening up for the mighty Helltrout and 27 Devils Joking at the Northshore Surf Club in Olympia all because Calvin Johnson heard a crappy practice recording they dropped off. In fact, according to Tony, "We didn't even know we had the gig until we saw a flyer downtown with our name on it". Soon a series of dates were acquired including opening for Seaweed, Treepeople and 10:07 at the Party Hall in Seattle and headlining in Yelm with Diplomatic Immunity and Morbid Youth (soon to be Velvet Rain) to a huge crowd. Shortly after this series of gigs it was decided they should record their first album.
In the spring of 1991 they went into Electric Eel studios in Seattle to record "Wally", eight songs of raw punk rock. It was recorded and mixed in roughly a day a half by A. Zachary of Purdins fame at this Georgetown landmark studio. They made the cover themselves at Kinko's and distributed the tapes themselves. They quickly sold out of their original pressing run. More shows followed in venues all over Western Washington. The Off Ramp and the Ditto Tavern in Seattle where, at the latter, they would meet long time friends Confused?!.
In the early summer of 1992, the band would return to Electric Eel studios with Zach at the helm once again, to record what they thought would be their next album but it would be the first of four albums that were recorded but never released. "Monster Pieces" was an album that showed that while they struggling to find a style that was their own, they were discovering the joys of mixing other types of music with their brand of punk rock. Garage, slow grinding heavy rock, this was the album where they started to experiment with sounds. "It was really hot in the studio while we were recording. After a while, my left hand would start to slip off the neck of my bass because of sweat" Mike would say. "We worked hard though." They continued to play more and more shows all over Washington.
In early spring of 1993 they found themselves once again at Electric Eel studios recording a three band (all from Yelm) five song 7″ by the title "Where The Hell Is Yelm?" aka "It Came From Yelm" with likes of Diplomatic Immunity and Velvet Rain. It was a project constructed by ex-Slappywhite drummer John Ledington. This second attempt (the first was at Velvet drummer Todd Rice's house with a completely incompetent engineer that nobody remembers) was by far one of the funnest projects with an all band sing-a-long named after the title. Sadly, this too would not get released. By this time though, they had received a reputation as an energetic and at times wild live band. Instruments flying around as well as bodies, the audience also never knew whether the band would be drunk or sober during the show. "Even though they were drunk and horribly out of tune, they were still entertaining" a fan would say after a particular show at Olympia's Uncola venue. The Toad machine kept marching on. They entered Word Of Mouth studios in Seattle, which was the old Reciprocal Studios building, in the fall to record a four song EP called "Quilt With Ease" with engineer Phil Ek. By this time they had become competent musicians and songwriters which was reflected in the music. A little psychedelic at times and a little poppy at others but still very raw. The album included a guest appearance by longtime friend and fellow Yelm wacko Ron Lenz, who talked about Elvis, water buffaloes and an ex-girlfriend all while playing some accordion on the song "Viscosity And Thermal Breakdown". More shows and some radio gigs followed but no label interest. In true Tall Toad fashion they persisted on.
1995 was yet another busy year with recording and playing. The bit of material they recorded was "Tall Toad" at the Evergreen State College by Former Diplomatic Immunity singer Brooks "George" Martin. It was a project similar to the BBC recordings of bands in the past, only it wasn't played on the air or ever released. It included three slightly different versions of the song "Jeff Is So Happy" and the first ever original Tall Toad song finally recorded called "It's A Dead Guy". More shows followed including a festival in Federal Way, WA and a number of stints at the now closed Lake Union Pub. In late summer of that year, they went to Synergy Studios in Federal Way to record the album "Waltzin' The Geezer" with Jared Jensen engineering. This album would prove to be another big step forward. "Waltzin'" was an album with a wider style of music on it. Garage rock, psychedelic, punk, pop and just plain rock it reflected an ever-maturing sound. It would include their first nine and a half minute drug fest called "Jesus Side Of Winter" as well as a song about an Eskimo spy. They would continue to play shows and radio gigs with one bright spot from MCA Records. A letter from an A&R person would at first be a great lift to the band but then a slight blow of confusion when they were told their material was "Clearly meritorious, but it's not what MCA is looking for at this time".
When 1996 rolled around the band was ready to start recording again. They had been playing some shows to work out some of the new songs that would comprise their next effort, "This Could Get Ugly", an album with a huge variety of styles. Consisting of twenty-two songs, it would styles such as country, spoken word, blues and yelling, mixed with old favorites such punk, metal and garage. They spent three days recording and three to four days to mix, which was the longest they had ever spent in the studio. While they would consider it a high point of their career, they would not have the financial means to release it. They spent the next two years playing a smattering of shows to no avail. By 1998 they would break up for the first time, citing boredom and changing lives but six months later they would reform and start working on some of their best songs to date. "Docking Bay 94", "Take It Away", "Party At The Moon Tower", "Ballad Of Dave Nothing", "Maintaining My Spirit", "Hovering Below The Fray", "A Cubic Centimeter Of Chance", "Real Fine Day", "Between You And Me" and "Crawl Through" were the songs that never saw the light of tape. In the summer of 1999 they would play their first and only show as a reformed band, at the Midnight Sun in Olympia. They would break up one week later.
Who knows what influence this band would have had on the music scene in general. They never sacrificed their integrity and never sold out their pride. It was a hell of a lot of fun.